Packing Boxes and Moving Boxes Sydney CBD
Hire A Box hires and sells cheap packing boxes and archive boxes throughout the Sydney CBD area and delivers to your door.
Did you know that Hire A Box can deliver your Sydney CBD packing boxes 7 days a week? Just choose a 2 hour time slot so you don't have to wait around all day and our drivers will drop them to your door. 
Save 10% on your boxes when you use our removal or packing services.


Order online & choose a convenient 2hr delivery window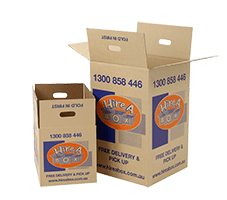 WHY USE OUR MOVING BOX SERVICE
Quick and easy online ordering
Cheaper than buying from removalists
Extra strong cardboard
Same day or next day delivery
Free delivery in a 2-hour delivery window
No delivery fee if you need a second top-up order
Which service is right for you?
IS HIRING RIGHT FOR YOU?
Renting boxes works out cheaper than buying them as long as you have them collected within the 3 months maximum hire period.
Free delivery when you hire $65 worth of boxes
No delivery fee if you need a second top-up order
Free pickup of your boxes once you have finished with them
20% cheaper than buying boxes
Boxes can be used for up to 3 months
Refundable deposit
IS BUYING RIGHT FOR YOU?
If you are moving to a suburb outside a metro area or if you wish to keep the boxes for longer than 3 months then it is cheaper for you to buy boxes instead of hiring them.
Free delivery on all orders over $99
No delivery fee if you need a second top-up order
Your boxes are yours to keep for storage or your next move
Save money by buying directly from us instead of from removalists or a storage facility
New or used boxes available
Enter your postcode or suburb to check available delivery times
The Hire A Box Difference
CHEAP PACKING
BOXES
Hiring moving boxes in Sydney saves you up to 30% on your moving costs. Hire boxes from $2.40 and buy boxes from $3.30.
EXTRA STRONG
CARDBOARD
Our packing boxes are extra strong, and made in Australia from good-quality cardboard which don't fall apart when you fill them up and also last when stacking in the truck or for storage purposes.
HIRE OR
BUY BOXES
You can choose to hire or buy your packing boxes. If you need them longer than 3 months it is cheaper to buy them upfront.
SAME DAY OR
NEXT DAY DELIVERY
Call up in the morning to see if we can deliver your storage boxes the same day, or book online for next day delivery. Hire over $65 of boxes and get free delivery or buy $99 or more worth of moving boxes and get free delivery.

Where we deliver packing boxes in Sydney CBD
We deliver our packing and moving boxes throughout the Sydney CBD, so whether you are based in Broadway, Circular Quay, Darling Harbour, Haymarket, Potts Point, Kings Cross,  Ultimo, Pyrmont, Walsh Bay, The Rocks, Wynyard, Martin Place, World Square or Barangaroo, our drivers can drop the packing boxes to your home or office at a time that suits your schedule. You have 3 options for your moving boxes: you can hire the boxes, or you can choose to buy new or second hand boxes
Need Packaging Material?
In addition to the packing boxes, we make your move easy by also supplying all the commonly sought after items such as bubble wrap, wrapping paper, markers, tape dispensers and tape rolls. Want to learn more or see what our customers have to say? Why not read our facebook reviews!

Looking for a little extra help packing?
Hire A Packer is a division of the Hire A Box Group that offers professional packing and unpacking services in the Sydney CBD area. We have professional, friendly and well-trained mature packing ladies available at a cost-effective rate of 2 ladies for 4 hours for only $480. You can hire them to pack or unpack your home or office. You also reduce the risk of anything getting damaged in transit. Find out more about hiring packing ladies in Sydney CBD here on the Hire A Packer website.
Need Storage or Moving Services in Sydney CBD?
Need a removalist or storage service? We understand our clients' unique needs, so just contact us and we'll be able to arrange a cost-effective and professional moving, or storage service for you. Hire A Box is part of The Hire Group, including Hire A Mover, therefore when you order with Hire A Box, you can use the cost-effective moving services of Hire A Mover, and be eligible for a 10% rebate on what you spend on the boxes.
Got any questions about our Sydney CBD moving boxes or when you could the boxes delivered to your Sydney doorstep? Not a problem, give our friendly customer service team a call on 1300 858 446. Order your moving boxes online now and start packing tomorrow!