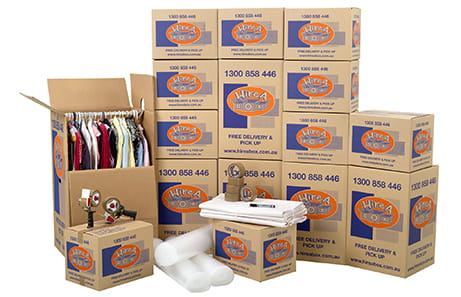 Save 10% on your moving boxes when you use our removal or packing services
20% cheaper than buying
Free delivery when you hire $65 worth of boxes
No delivery fee if you need a second top-up order
Use boxes for up to 3 months
Option to buy new or used boxes
Free delivery with any order over $99
No delivery fee if you need a second top-up order
Boxes are yours to keep
Enter your postcode or suburb to check available delivery times
LARGE TEA
CHEST BOX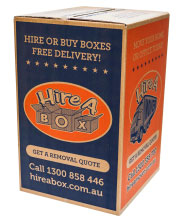 430 x 405 x 650 mm
Tea chest boxes are suitable for lighter, bulkier items – pots, pans, clothes, toys, linen, cushions, shoes, etc. Large cardboard boxes constructed from heavy duty cardboard . Perfect moving boxes for keeping goods safe during transport or storage.
MEDIUM BOOK
CARTON BOX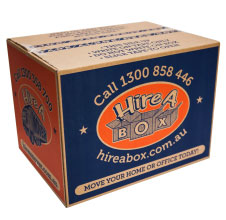 430 x 315 x 317mm
Book carton moving boxes suit heavier items such as books, papers, records, CD's, DVD's. Crockery and glassware travel extremely well in these medium moving boxes. Wine bottles, pantry, bathroom and sink cupboard items, tools etc.
PORTA-ROBE
BOX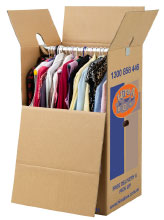 500 x 600 x 990 mm
Portable Wardrobes or Porta-robes make carrying your clothes safe and easy. Protect your best dresses, suits and shirts by keeping them hung up during transport in these purpose built wardrobe storage boxes.
Save time and money by using our other convenient and professional relocation services
Hire A Mover
Residential & Commercial Removalist Services
Cost effective, friendly and fully insured
Receive a 10% discount on what you spend on the boxes when you move with Hire A Mover*
From $130 per hour for
2 movers and a truck
*Maximum of 1 discount applies per order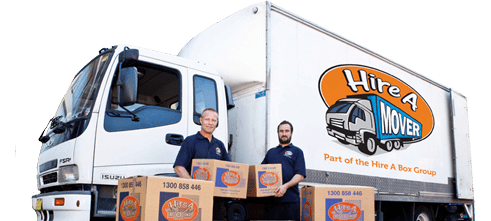 Hire A Packer
Professional Packing & Unpacking Service
Save time, reduce stress & protect your valuables
Receive a 10% discount on what you spend on the boxes when you book with Hire A Packer*
Only $480 for 4 hours with
2 experienced packers
*Maximum of 1 discount applies per order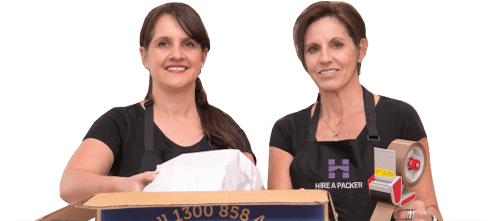 Your feedback
No company is perfect, but we're proud of our positive reviews. We always aim for constant improvement by acting upon our customers' honest feedback. Have you used our services? We'd love to hear from you.
Cheapest Moving Boxes Delivered Next Day To Your Door
Hire A Box boxes are extremely cost-effective. You generally save around 30% when hiring our packing boxes as opposed to getting them from a removalist or expensive box shop. As we are an online business we don't have any the expenses of a traditional retail store and hence pass on the savings to our moving customers. Not only are our boxes cheap, our delivery service is ultra-convenient. Our drivers are on the road everyday so if they can't deliver your moving boxes to you the same day, rest assured you can get them the next day. You can also choose a convenient 2 hour deliver window or choose for us to leave them somewhere safe so you don't have to sit around waiting all day. We don't use couriers or Australia Post, our own staff personally deliver your boxes.
Australian-Made Good Quality Packing Boxes – For Moving Or Storage
All our packing boxes are made in Australian from superior grade virgin cardboard. This means they don't fall apart when you fill them up and also last when stacking in the truck or for storage purposes. We don't sell those flimsy packing boxes many of our competitors sell.
Hire Or Buy – Great For The Environment And For Your Convenience
Hire A Box are the number 1 choice for hundreds of schools, businesses and government organisations due to the fact that you can hire our moving boxes. We drop them to you, let you keep them for up to 3 months and then collect them once you have finished with them. Not only is it great for the environment, but it is also very convenient as you don't have to worry about disposing of the boxes. You can also choose to buy new or used boxes if hiring doesn't suit you.
Full Range Of Moving Boxes And Packaging Material
For your convenience. We offer 3 main types of popular boxes for moving – book cartons, tea chest boxes and portable wardrobe boxes. These are perfectly suited for moving home or office as the 3 sizes will fit all the most commonly moved items. We also sell a range of packaging material and special boxes including tape rolls, tape dispensers, butchers paper, tv boxes, mattress and sofa protectors, and a bunch more.
Additional Moving Services Available – Moving Made Easy
Hire A Box also offers a range of other convenient relocation services under the one roof to help make your move easy. We offer cost-effective and professional removal services with Hire A Mover. We also offer professional and friendly home and office packing services with Hire A Packer. Check them out and enjoy having one point of contact across all your moving services.