Packing and Moving Boxes Melbourne
Moving home or office in the Melbourne metro area?  Need strong packing boxes for storage or moving? Then you need Hire A Box moving boxes. Hire a Box delivers moving and packing boxes anywhere in the Melbourne metro area and could either deliver them to you today or by tomorrow morning!
Did you know we deliver 6 days a week in Melbourne? Simply order online and choose your 2 hour delivery time slot so you know exactly when your boxes will arrive direct to your door!
Save 10% on your boxes when you use our removal or packing services.
Order online & choose a convenient 2hr delivery window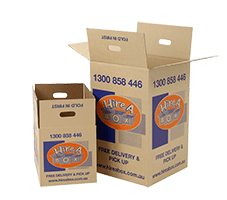 WHY USE OUR MOVING BOX SERVICE
Convenient and easy online ordering
Cheaper than buying from removalists
Extra strong cardboard
Same day or next day delivery
Free delivery, top-up and pick-up once finished of your hired boxes. Minimum order applies
Which service is right for you?
IS HIRING RIGHT FOR YOU?
Hiring boxes is the most cost-effective option as long as you have the boxes collected within the 3 months maximum hire period.
Free delivery (when you hire $65 or more), top-up and pick-up of your boxes once you have finished your move
Save 30% by hiring our boxes instead of buying boxes from removalists or other companies
Refundable deposit
IS BUYING RIGHT FOR YOU?
If you need to keep your boxes for longer than 3 months or if you are moving to a suburb outside of the Melbourne metro area then it is cheaper for you to buy boxes instead of hiring them.
Free delivery on all orders over $99
Free top-up delivery
Keep your boxes for your next move or for storage
Save money by buying directly from us
LARGE BOX
Hire $3.95 | Buy $4.95

MEDIUM BOX
Hire $2.95 | Buy $3.95

PORTA-ROBE
Hire $12.95 | Buy $17.95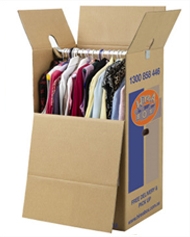 Enter your postcode or suburb to check available delivery times
Why use the Hire A Box Service?
CHEAP MELBOURNE PACKING
BOXES
When you rent our moving boxes in Melbourne you typically save about 30% on what you would pay a removalist for their boxes. Our boxes start from $2.40 to hire and from $3.30 to buy.
EXTRA STRONG
CARDBOARD
Our Australian-made packing boxes are extra strong, made from high-quality cardboard and won't break or fall apart when you fill them up.
HIRE OR
BUY BOXES
You can choose to hire or buy your packing boxes. Hiring means we will pick them up when you finish with them so you don't have to worry about getting rid of them. It is also better for the environment. When buying you can buy new or second hand packing boxes.
SAME DAY OR
NEXT DAY DELIVERY
Call up in the morning to see if we can deliver your storage boxes the same day, or book online for next day delivery. Simply choose a convenient 2 hour delivery window.

Hire Or Buy Boxes in Melbourne metro
Why not join in with the rest of the community at saving the environment by recycling and reusing our packing boxes in Melbourne? You can also save on average 30% by using our hire boxes as opposed to buying boxes from a removalist or packing supply company.
Because we don't use couriers you can expect a personal service from our experienced Melbourne staff. You have 3 options with our moving boxes in Melbourne: you can hire them, or you can choose to buy new or second hand moving boxes.
Free Delivery, Top-Up And Pick-Up
Order $65 worth of hire items and get your packing boxes in Melbourne delivered for free. If you run out of packing boxes, just give us a call and a free delivery will be given for the top up. When you have finished with the boxes, simply give us a call and we will collect them for free.
Keep For Up To 3 Months
Our rental packing boxes can be kept for up to 3 months, so there is no need to rush packing or unpacking. Need them longer? Not a problem, give us a call to discuss the various options available for you. Want to learn more or see what our customers have to say? Why not read our facebook reviews!

Huge Range Of Packing Materials
Not only do we stock the most commonly sought after moving and storage boxes in Melbourne, we also have a range of good quality extras such as bubble wrap, wrapping paper, strong packaging tape, and tape dispensers to make packing quick and easy.
Ordering online can be done 24 hours a day and is easy and secure. Our order form is easy and quick to complete and we use SSL secure payment gateway technology for your credit card information so you can pay with a Visa or MasterCard worry free.
Use our moving services and receive an additional 10% rebate on your Melbourne moving boxes!
As Hire A Box is part of the Hire A Mover network, if you move with Hire A Mover, not only do you get a cost-effective and professional moving service, you can also claim a 10% rebate on what you spent on the packing boxes. Hire A Mover is a sister company of Hire A Box and are a professional Melbourne removalist company. When buying the boxes simply tick the box asking for a removal quote and our experienced team will give you a call to arrange this for you.
So whether you are living in Albert Park, Berwick, Brighton, Carlton or anywhere else in the Melbourne metro area, Hire A Box can deliver packing boxes to your front door quickly.
Looking for storage? We also offer storage services in Melbourne and can move your boxes and furniture into safe and convenient storage. Learn more on our Hire Storage website.
Packing and Unpacking Service available too!
We offer a professional and convenient packing and unpacking service for all our Melbourne clients through our Hire A Packer company. You don't move often so why not treat yourself, reduce the risk of damage to your valuables and save plenty of time by booking in some of our experiencing packing ladies. 2 ladies for 4 hours costs $480 and in this time they generally pack 30-40 boxes which is a typical kitchen and 1-2 other rooms. You can request additional hours and packers if you like. You can get a quote and check availability for packing in Melbourne on the Hire A Packer website.
Start packing tomorrow by ordering your boxes online now! Alternatively, give us a call on 1300 858 446 to see if we can deliver your moving boxes today!