Hire A Box takes the hassle out of moving by delivering moving boxes to your door! Whether you're looking to hire or buy, Hire A Box delivers moving boxes to Playford for all types of homes and offices.
Large Box

Medium Box

Porta-robe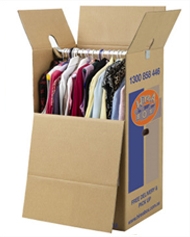 Enter your postcode or suburb to check available delivery times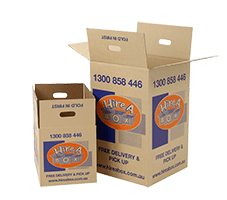 WHY HIRE PACKING
Cheaper than buying from removalists
Extra strong cardboard
Same day or next day delivery
Free delivery, top-up and pick-up once finished
Why use the Hire A Box Service?
CHEAP PLAYFORD PACKING
BOXES
Hiring moving boxes in Playford saves you up to 30% on what you would pay removal companies for their boxes.
HIRE OR
BUY BOXES
You can choose to hire or buy your packing boxes. Hiring is cheaper and if you need them for less than 3 months. If you want them for longer, you can buy the boxes too – new or used.
EXTRA STRONG
CARDBOARD
Our packing boxes are extra strong, made from good-quality cardboard
SAME DAY OR
NEXT DAY DELIVERY
Call up in the morning to see if we can deliver your storage boxes the same day, or book online for next day delivery.
Our service offering to you:
CHEAP BOXES – our packing boxes are significantly cheaper than buying from removalists or packing supplies companies.
HIRE or BUY – why buy boxes when you can not only save a lot of money by hiring, but also not be stuck with the boxes once you are finished with them and also help save the environment. If you need them for longer than the 3 month hire period, not a problem, you can buy the boxes from us too.
SAME DAY DELIVERY – give us a call and we'll try get them to your doorstep today. Alternatively, order online for next day delivery;
FREE DELIVERY, TOP-UP and PICK-UP – order hire boxes to the value of $65 and receive free delivery all around the Adelaide metro area. If you run out of boxes, give us a call and we will do a second delivery for free. Once finished with the boxes, give us a call and we'll come get them from the new destination.
STRONG CARDBOARD BOXES – our boxes are made of extremely strong virgin cardboard and can be used not only for moving but also for storage purposes;
BIG RANGE OF PACKAGING MATERIALS – we make your move easy by also supplying all the commonly sought after items such as bubble wrap, wrapping paper, tape dispensers and tape rolls.
The city of Playford is located in Adelaide's northern suburbs. Home to over 80,000 residents, Playford is fast becoming one of the hottest suburbs to live in around Adelaide. It is the fastest growing local district with record growth rates!
If you're on the lookout cheap quality moving boxes in Playford, Hire A Box can deliver them to your door! We provide moving boxes in Playford and other suburbs around Adelaide with quality products for moving. Click to order online or give us a call at 1300 858 446.