Cardboard Boxes
Hire A Box Cardboard Boxes – Strong and Sturdy
Hire A Box cardboard boxes are the most efficient and eco–friendly way of moving your goods from one place to the other.  If it is a home to home or office to office move, we offer different sized high-quality superior products that stand the test of time as well as the rough and tumble of trucking.
Designer Cardboard Boxes
Our cardboard boxes will keep your belongings safe and secure in your move as they are purposely designed to be sturdy and robust.  No expertise needed – you can easily assemble our boxes in just a few steps.
Save Your Pennies
Hire A Box service is unsurpassed.  No need get into your vehicle and pick up boxes.  We deliver cardboard boxes to your door.  To top it all off, when you have finished using your boxes, we come to your home or office to pick them up! What more can you ask for?
Enter your postcode or suburb to check available delivery times
Range of Cardboard Boxes
You can hire or buy cardboard boxes from us in 3 different sizes, which will fit all your moving needs.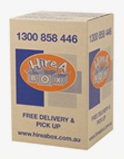 Large Box
Dimensions: 430x405x650mm
Our large boxes are available for hire for $3.95 and for sale at $4.95 and are suitable for bulkier but lighter items, such as clothes, kitchen utensils or bed linen.


Medium Box
Dimensions: 430x315x317mm
Medium boxes are suitable to hold smaller but heavier items, such as glassware, books, personal documents and crockery. You can hire our medium boxes for $2.95 or buy them for $3.95.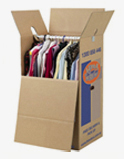 Porta-Robe
Dimensions: 500x600x990mm
Porta-robes are perfect for carrying your clothes safely and easily. You can hire a porta-robe for $12.95 or buy one for $17.95. Our porta-robes are designed to hold hanging clothing and will make for a much easier packing, moving and unpacking process.
Whether you are looking for cardboard boxes in Sydney, Melbourne, Perth and Adelaide, we can deliver them to your home. Our friendly drivers will even show you how to tape up the cardboard boxes to ensure your goods are safe throughout the transit and storage.
We also have a wide range of moving products, such as bubble wrap, packing tape and furniture protectors.
Green Conscious
We do not dispose of our cardboard boxes when we pick them up from you; we recycle and reuse them reducing the carbon footprint for our earth.
Clutter Free
Take the burden off!  Save precious space for yourself by not having to store bulky boxes in your storeroom.
Order Your Boxes Today
If you are looking for high quality packing boxes delivered to your front door, look no further than Hire A Box. Order your cardboard boxes online now and start packing tomorrow!