Packing Boxes
Looking for high quality, durable packing boxes? Hire A Box is a trusted provider of solidly constructed, affordable packing boxes – and our packing boxes are tough enough that you can use them more than once!
Enter your postcode or suburb to check available delivery times
We deliver in the metro areas in Sydney, Melbourne, Perth and Adelaide. Our friendly drivers will even show you how to tape up the packing boxes to ensure your goods are safe throughout the transit and storage.
Home delivery of packing boxes
If you're moving home or packing up your office chances are you're too busy to want to think about picking up your packing boxes. That's why Hire A Box is pleased to deliver your packing boxes right to your front door. Why spend time in traffic when you can just place an order and enjoy same or next day delivery? Our team are even happy to give you an overview of how best to pack and seal your boxes for even better performance.
Our packing boxes are clutter-free and eco-friendly
By hiring your packing boxes from Hire A Box you'll be doing your part for the environment. Because our boxes are picked up to be reused by other customers, their environmental footprint is much lower than single-use boxes. They're also a great option if you're low on storage space. Rather than having unused boxes cluttering up your garage or closets, simply arrange to have them picked up by our staff when you're done with them. It couldn't be easier.
Range of Packing Boxes
You can hire or buy packing boxes from us in 3 different sizes, which will fit all your removal needs.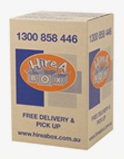 Large Box
Dimensions: 430x405x650mm
Our large boxes are available for hire for $3.95 and for sale for $4.95. They are suitable for larger and lighter items, such as clothes, kitchen utensils or bed linen.


Medium Box
Dimensions: 430x315x317mm
Medium boxes are suitable for packing heavier items, such as books, personal documents and crockery. You can hire our medium boxes for $2.95 or buy them for $3.95.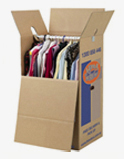 Porta-Robe
Dimensions: 500x600x990mm
Porta-robes are perfect for carrying your clothes safely and easily. You can hire a porta-robe for $12.95 or buy one for $17.95.
We offer same day or next day delivery
Speedy service is great service, which is why we have your packing boxes delivered to your door fast than you'd believe. When you place an order online with us we'll arrange to have your boxes delivered as early as the very same day, or the following morning. Better still, we'll arrange to pick up your boxes when you're done with your move, giving you one less thing to think about when you could be enjoying your new home or office.

If you are looking for high quality packing boxes delivered to your front door, look no further than Hire A Box.
Order packing boxes online now and start packing tomorrow! For all your packing boxes and packaging materials, such as tape rolls, tape dispensers and bubble wrap, Hire A Box offers same day delivery over the phone or next day delivery when booking online.