Moving Boxes
Looking for great quality, affordable moving boxes for your upcoming home or office move? Hire A Box is proud to offer durable, cheap moving boxes with speedy delivery and pick-up. Organising your moving boxes couldn't be easier!
Enter your postcode or suburb to check available delivery times
Hire cheap moving boxes with Hire A Box
If you'd rather spend your money on new furniture than on moving boxes, Hire A Box is the solution. By offering moving boxes for hire we're able to offer some of the most competitive rates around. When you compare the costs of hiring boxes compared with buying them you'll realise it's a great way to keep your wallet flush – you'll be ready to pick up the phone or place your order right away.
A great option for premium quality moving boxes
Because we offer moving boxes for hire, it's important that our moving boxes are tough, durable and hard wearing. When you hire your moving boxes from Hire A Box, you'll know that you'll be working with moving boxes that are tough enough to stand up to the most challenging of moves. Thousands of happy customers have enjoyed hiring our second hand moving boxes.We can even advise you which boxes are best for which items, and how to pack your boxes for maximum efficiency.
Range of Moving Boxes
You can hire or buy boxes from us in 3 different sizes, which will fit all your removal needs.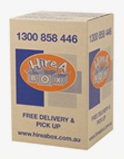 Large Box
Dimensions: 430x405x650mm
Hire our large boxes for $3.95 or buy them for $4.95. They are the perfect size boxes for toys, cushions, linen.


Medium Box
Dimensions: 430x315x317mm
Medium boxes are suitable for small and heavier items. They are the go-to moving boxes for every office move. Hire a medium box for $2.95 or buy it for $3.95.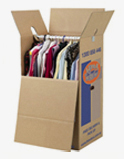 Porta-Robe
Dimensions: 500x600x990mm
Porta-robes are essential for your upcoming house move if you have many clothes to relocate. Quick and safe! Hiring a porta-robe is $12.95 whereas buying one is $17.95.
Order Moving Boxes today!

For all your moving boxes and packaging materials, Hire A Box offers same day delivery over the phone or next day delivery when booking online.
Book carton boxes, tea chest boxes and porta-robes are the 3 standard sized storage and packing boxes. We offer as well as tape dispensers, tape rolls, marker pens, bubble wrap and butchers paper.
We deliver in the metro areas in Sydney, Melbourne, Perth and Adelaide.
If you are looking for good quality moving boxes delivered to your front door, look no further than Hire A Box as your partner in boxes. Order moving boxes online now and start packing tomorrow!