Boxes For Moving
Cheap Boxes For Moving
Need strong and durable boxes for moving? Look no further.  Our boxes are designed for stacking and packing and have been tested for longevity and stability.  They are hardy and can be put easily into cars, utes, semi-trailers even trains!  They are also great for storing in storage areas.  Our boxes are designed to optimize stacking, so that you can get more packing space for your buck.
Premium Quality Boxes for Moving
Hire A Box is an Australian owned company that has a long history in the storage and moving box industry.  We only use boxes that are able to go the distance, are high in quality and are robust.  We have three different sized boxes for your belongings.
Range of Boxes for Moving
Our storage boxes come in 3 different sizes, which will fit all your moving needs.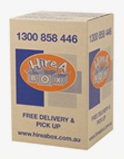 Large Box
Dimensions: 430x405x650mm
Our large boxes are available for hire for $3.95 and you can buy them for $4.95. They are suitable for larger but lighter items, such as clothes, kitchen utensils or bed linen.


Medium Box
Dimensions: 430x315x317mm
Medium boxes are suitable for packing heavier items, such as books, personal documents and crockery. You can hire our medium boxes for $2.95 or buy them for $3.95.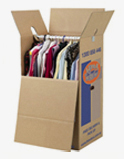 Porta-Robe
Dimensions: 500x600x990mm
Porta-robes are perfect for carrying your clothes safely and easily. You can hire a porta-robe for $12.95 or buy one for $17.95.
Fast Delivery to Metropolitan Areas – Same-Day Delivery Available
Do you live in a metropolitan area? Hire A Box delivers to most suburbs in Australian metropolitan areas. We deliver either the same day or next day, depending on when you order. We take the stress off your shoulders.
Free Delivery
Our tough boxes will be delivered free when you place a rental order above $65 or a sale order above $99. Now that's convenience! We also have other packing equipment in store such as bubble wrap, packing tape, permanent markers and furniture protectors.
Rent or Buy
You have choice – we both rent boxes and sell them too.  Renting our boxes is the most cost efficient way to acquire boxes.  No need to keep them when you're done, just give us a call and we will come and pick them up from your home or office.  You also get to keep them for up to 90 days – that gives you plenty of time to unpack without worry.
Whether you need boxes for moving in Sydney, Melbourne, Perth and Adelaide, we can offer a professional and cost-effective box delivery service and have a wide range of packaging materials on stock to make the moving boxes even easier.
Enter your postcode or suburb to check available delivery times
Wide Range Of Packing Materials
We make all your storage issues easy by suppling a wide range of quality packaging products including tape dispensers, tape rolls, butchers paper, bubble wrap, marker pens, sofa and mattress protector bags and even FRAGILE labels.
Order Your Boxes Online Now
If you are looking for good quality boxes for moving delivered to your front door, look no further than Hire A Box as your partner in boxes. Order online now and start packing tomorrow!