Moving and Packing Boxes Gold Coast
Wondering where to get packing boxes? Look no further than Hire a Box! Hire a Box offers moving boxes that can cater to your moving, packing and storage purposes. Our moving boxes in the Gold Coast are of the strongest quality material and have been thoroughly checked and tested for that guaranteed quality. Want to learn more or see what our customers have to say? Why not read our facebook reviews!
Did you know that Hire A Box can deliver your packing boxes in Gold Coast on Saturdays too? Just choose a 2 hour time slot so you don't have to wait around all day and our drivers will drop them to your door. How convenient is that!
Save 10% on your boxes when you use our removal or packing services.
Order online & choose a convenient 2hr delivery window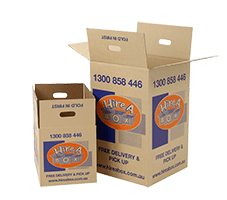 WHY USE OUR MOVING BOX SERVICES
Easy & convenient online ordering
Cheaper than buying from removalists
Extra strong cardboard
Same day or next day delivery
Free delivery, top-up and pick-up once finished
Which service is right for you?
IS HIRING RIGHT FOR YOU?
Hiring boxes is the most economical option as long as you have the boxes collected within the 3 months maximum hire period & live in the Gold Coast metro area.
Free delivery (when you hire $65 or more), top-up and pick-up of your boxes once you have finished your move
Save 30% by hiring our boxes instead of buying boxes from removalists or other companies
Refundable deposit
IS BUYING RIGHT FOR YOU?
If you are moving to a suburb outside of the Gold Coast metro area or you need to keep your boxes for longer than 3 months then it is cheaper for you to buy boxes instead of hiring them.
Free delivery on all orders over $99
Free top-up delivery
Keep your boxes for your next move or for storage
Save money by buying directly from us
LARGE BOX
Hire $3.30 | Buy $4.25

MEDIUM BOX
Hire $2.40 | Buy $3.30

PORTA-ROBE
Hire $11.50 | Buy $16.20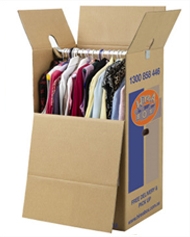 Enter your postcode or suburb to check available delivery times
Why use the Hire A Box Service?
CHEAP PACKING
BOXES IN THE GOLD COAST
Hiring moving boxes in the Gold Coast saves you up to 30% compared to having to buy the boxes from Gold Coast removalists.
EXTRA STRONG
CARDBOARD
Our packing boxes in the Gold Coast are extra strong, made from good-quality cardboard and don't easily collapse.
HIRE OR
BUY BOXES
You can choose to rent or buy your packing boxes. You can hire them for up to 3 months and we come collect them once you have finished with them. It is also cheaper than buying them.
SAME DAY OR
NEXT DAY DELIVERY IN THE GOLD COAST
Call up in the morning to see if we can deliver your storage boxes the same day, or book online for next day delivery. When you order online you can choose a convenient 2 hour delivery window so you don't have to wait around all day.

Cheap Packing Boxes
Our Gold Coast moving boxes are significantly cheaper than buying from removalists or packing supplies companies.Why buy boxes when you can not only save a lot of money by renting, but also not be stuck with the boxes once you are finished with them and also help save the environment. Choose to either buy our moving boxes or buy new or second hand boxes.
What If You're Looking To Buy?
Though hiring is definitely the cheaper choice, you can also opt to buy our moving boxes in the GC if you need to keep them for over 3 months, or if you'll be moving outside Gold Coast metro area. If you hire our boxes and then decide to keep them, we keep the deposit you put on those moving boxes. We're highly adaptable!
Same Day or Next Day Delivery
If you need a same day delivery for our Gold Coast packing boxes, call us on 1300 858 446 and one of our friendly staff will try to arrange it for you. In all other instances, simply follow the order steps online and you will be able to get the boxes within your preferred allocated time.
Free Delivery, Pick Up And Top Up
There are three conditions:
First time orders get one free top up and one free pick up, as long as they take place within 3 months of the initial delivery.
If you're hiring, orders valuing $65.00 or more will get a free delivery.
If you're buying, orders valuing $99.00 or more will get a free delivery.
Durability
Our Gold Coast packing boxes are highly durable and made from strong, rigid cardboard. The moving boxes are able to withstand the strains of heavy packing, lifting, and storage.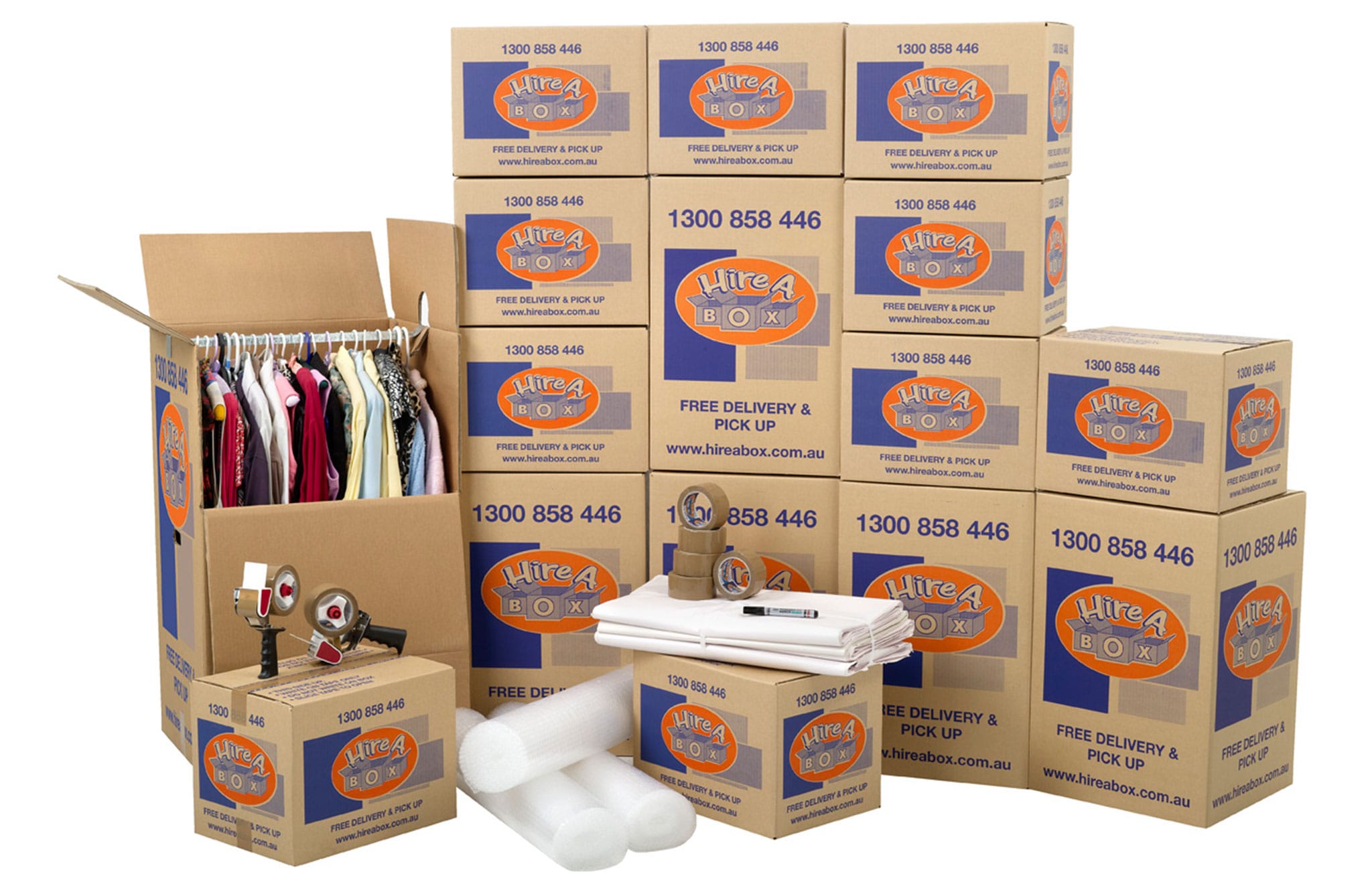 Everything You Need
We don't only have packing boxes in Gold Coast. Our range of products also comes in bubble wrap, wrapping papers, tape, markers, stickers, and just about everything you'll need to make your move as manageable as possible. Just check out our product descriptions page.
Need a Cost-effective Gold Coast Removalist Company? Look No Further!
Hire A Box is part of the Hire A Mover group which means you are entitled to use the Hire A Mover removal service and enjoy all the added benefits. Not only do Hire A Mover offer you a cheap and professional Gold Coast removalist team, you are also eligible to a 10% rebate on what you spent on the boxes once you have moved with Hire A Mover. Enquire when you chat with the Hire A Box staff or simply tick the checkbox to get a removal quote when ordering the boxes online.
So look no further than Hire A Box for cheap, quality packing boxes in Gold Coast delivered to your door fast. Start packing tomorrow by ordering moving boxes in Gold Coast online now!